If you want to use your computer to make a book or a magazine, the final step before printing is called imposition. Cheap Impostor is a simple yet powerful alternative to fancy imposition software. It doesn't offer all the features of high-end imposition software (which costs hundreds or thousands of dollars). Hence the name.
However, if you want to print and bind booklets, magazines, or even long books, this program might be all the imposition software you need.
What does it do?
Let's say you want to make a magazine from a document you've written. You would like to have the magazine be the size of a sheet of paper folded in half. You might assume that you can simply print the document 2-up, fold it in the middle, staple and be done. Whoops! If you did that, the first page would be on the back cover of your "magazine", while page 2 would be on the front. And so on...it gets really ugly. Sooo:
Without imposition software the simplest way to transform your document into a magazine would be to use a photo-copier to shrink the pages so two fit sideways on a sheet of paper, and reorder them so that when a stack of them is stapled and folded in half the pages appear in the correct order.
The short story is that Cheap Impostor lets you skip the photocopier step, and produce output from your printer that can directly be turned into a magazine. Further, Cheap Impostor has settings that let you create books with multiple signatures.
Tutorial: Binding books with Cheap Impostor This is a description of how I used Cheap Impostor to print and bind a book.
Blog posting: Rick DeNatale posted a very nice blog post about using Cheap Impostor to make books. I like his press more than mine - I think I'll be building one like it.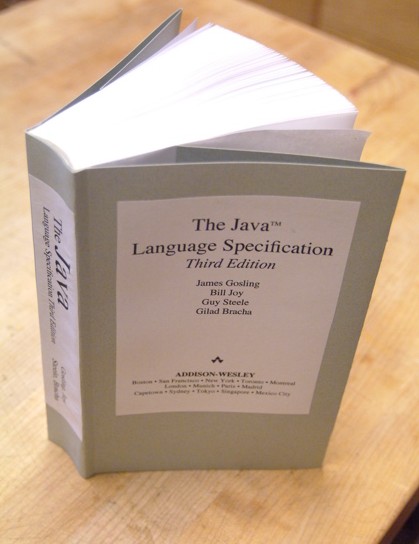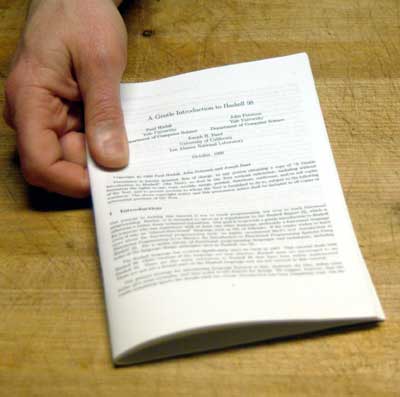 Feature overview:
Imposes PDF files for books and magazines

Reorders and 2-ups pages for binding magazines and books
Sheets per signature can be varied from 1 to magazine/booklet

Comes with an easy to read How-to Guide that explains what "sheets per signature" means, and how to use Cheap Impostor to make books and magazines.
Supports automatic and manual duplex printers, with and without collation
With shareware registration, enables;

Page zoom and inside offset controls
Margin "creep" compensation
Printer center adjustment
Downloads:




Cheap Impostor is shareware, and a bargain at $35 (if I do say so myself). After purchasing you will receive a registration code that will unlock very useful features. This license covers all future versions of Cheap Impostor.

Support: if you're having troubles, please first check the manual (included in the download), but if that doesn't answer your question, email me at dylan dot mcnamee at gmail dot com
Purchase via PayPal:
$35 personal license:
$99 site license (/family pack):
If you don't receive your registration code promptly, please send me an email.
dylan . mcnamee at gmail dot com
This is a mecodegoodsomeday production.
Nov 2022: Cheap Impostor 3.4 is a Universal binary (x86/M1) and is compatible with macOS 11 → 13 (Big Sur → Ventura)

Download Cheap Impostor 3.4

The great folks at MacUpdate think it's pretty good:

Cheap Impostor was a CreativeTechs QuickTip

Screenshot of Version 3: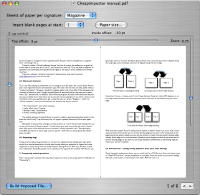 Preferences:

User comments

A K M Adam says "...Cheap Impostor, my favorite among page-imposition programs, has at last released a version that resolves the two-up PDF problem for printed matter that doesn't need imposition..." Thanks AKMAdam!

"GREAT PROGRAM!! I've been making minicomics for years now, doing the imposition in quark.. this is so much easier.. it's really a well done program. THANK YOU!" -- Jordan, Los Angeles, CA

"This is really great. We took delivery on the color laser last week expecting to be able to just directly run our stuff and it was a bad moment when I discovered we had to figure out this other step. Thanks for offering this program." -- Rev. Jim Eaton, Norwich CT

You're welcome! The inspiration to write Cheap Impostor was when I bought a Minolta 2350 Color Laser, and had exactly the same challenge.

"thank you for your application, it's really nice, simple (mostly) and self-explaining. and the readme is kinda funny as well" -- Kai from the Netherlands

Thanks! I think the readme is kinda funny too.

System requirements:

MacOS X 10.5 - 13 (Ventura) for version 3.4.
MacOS X 10.4 for Version 3.1.
MacOS X 10.3.9 or greater for version 2.
Memory is always good.